I have received information and materials from ©Johnson & Johnson Consumer Inc. 2017.The opinions stated are my own. This is a sponsored post. #ForBetterTomorrows #BetterTomorrows #FallBack #CollectiveBias
I confess that when I was in college I didn't get much sleep (Raise your hand if that was you!). I used to stay awake at night doing homework and studying. But now that I'm not in college anymore and I work for myself I a have routine that works well and that way I can have my beauty sleep. For me it's super important to rest so I can feel good and be productive the next day. When I am productive I have a positive attitude that helps me to give my best. And like I always say if I feel good, I look good which is always a plus!
Now, we all have had those days where going to sleep is a challenge. Even though now I have a routine that I love and works for me, in the past I didn't have one. The issue with not having a routine was that having less structure meant I didn't know when to disconnect and if you work for yourself you know what I'm talking about. At the end that means fewer hours of sleep because there's always something to do and an email to send. If I don't know when to stop and disconnect from work I will not rest enough for the next day. That's the reason having a routine is so important to me and that's why today I want to share with you a few tips that have helped me to get a better night sleep.
Tip 1. Alleviate pain and have a better sleep with TYLENOL® PM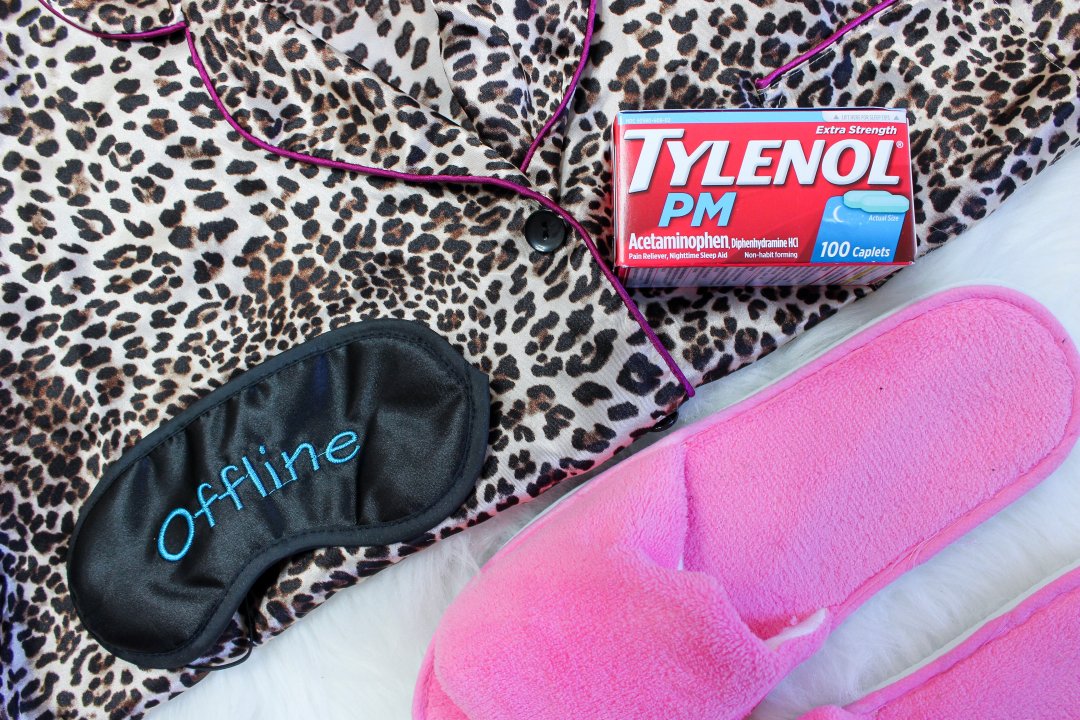 You can hover over the image and shop directly above!
Even though I manage my hours working for myself, I wake up every day at 4:30 a.m. because my partner goes to work at that time. When I don't follow my night routine (and stay up late), because I wake up so early, that day I feel tired with no energy because I didn't get my 7-8 hours of sleep and then by the night that leads to a headache. That's why I use TYLENOL® PM to alleviate the pain and that way I can rest enough to get back on track to my routine. I only use TYLENOL® PM as directed when I get those minor aches. Now that the days are shorter and there's a lot of work for me (Holiday season wuju!) I have to take advantage from the daylight while I can to be productive! #BetterTomorrows #FallBack
I bought it on Walgreens and btw they have an offer, when you buy TYLENOL® PM 100 count $11.99 you can have $1.50 off using the Walgreens card. Valid from 11/5-11/11. 
Tip 2. Schedule ready for the next day
Before I go to sleep I like to write on my phone the things I have to do for the next day. I usually organize my schedule on Sunday but I always have to add last minute things I have to do the next day. This is important for me because I find that when I do this I feel more relax and prepared for the next day and that's why I can sleep better. Have you done this? Works great, helps to disconnect.
Tip 3. Read Before you Sleep!
When it comes to improve your night routine what's better than reading your favorite book? I love to read inspirational stories, motivational speaker books and I find that when I read them for at least 15 minutes before I sleep, I have a better night sleep! That's why I recommend reading your favorite book. If you need recommendations let me know, I can send you an email with a list!
Tip 4. Sleep Without Makeup
I have a beauty rule that should never be broken and is that I should never go to sleep with makeup! I know this may sound logical but I personally have friends that don't care and sleep with makeup (they don't listen, but I love them anyway!). When you sleep with makeup you are not letting your skin breathe which means you are not fully resting. It's important  to prepare your body to sleep so please give to your skin some love and buy makeup remover wipes, have them near your bed for those days where you are thinking of sleeping with makeup.
TYLENOL® PM contains a pain reliever and nighttime sleep aid. ©Johnson & Johnson Consumer Inc. 2017 The third party trademarks used herein are trademarks of their respective owners.