Disclosure: This post has been compensated by Collective Bias, Inc. and AcneFree. All opinions are mine alone. #AcneFreeSummer #AcneFreeLife #CollectiveBias
It's been my priority on my beauty routine, it makes me feel amazing and confident; I'm talking about my Skincare Regimen! Although I am a makeup lover, since I was in college I've always loved to wear minimal makeup to let my skin be the focus because to me there's nothing more beautiful than highlighting your natural beauty. That's why when it comes to my beauty regimen, I will always prioritize skin care.
But finding products that work for my skin has been a little tricky because I have combination to oily skin all year except on winter. Plus I get acne around my forehead and jawline all the time so finding a product that covers all my skin care necessities was a struggle until I remembered that AcneFree works great with my skin. That's why I went to Walgreens and bought the AcneFree 24 Hour Acne Clearing System along with the AcneFree Therapeutic Sulfur Mask. I love that these products are not only accessible but also really affordable.
AcneFree is the only brand that makes acne clearing systems formulated with Advanced Micro-Benzoyl Peroxide. I use the 24 Hour AcneFree Clearing System twice a day and the best part is that is an easy daily regimen with only three simple steps.
Step by Step:

Step 1:
I use every morning and evening the Oil-Free Purifying Cleanser. This cleanser with Micro-Benzoyl Peroxide gently deep-cleans with exfoliating microbeads to remove excess oil and to eliminate acne bacteria.

Step 2:
After I cleanse, I towel-dried my face and with a cotton swap use the Renewing Toner that has vitamins, Witch Hazel, Chamomile and Aloe which helps to control oil and balance uneven skin tone. I love that leaves my skin feeling soft and refreshed!

Step 3:
The last step in the system is the Repair Lotion. Offers a 24 hour continuous clearing when used twice a day. Fights acne bacteria and helps to stop new breakouts before they start.

I love to combine the AcneFree 24 Hour Acne Clearing System with the AcneFree Therapeutic Sulfur Mask which is a deep penetrating pore therapy that helps soothe acne-inflamed skin and absorbs excess oil. Leaves my skin feeling refreshed with a healthy glow which is a yay in my book!
Are you looking for great skin care products? Try the line of AcneFree products! You can hover over the image and shop directly below!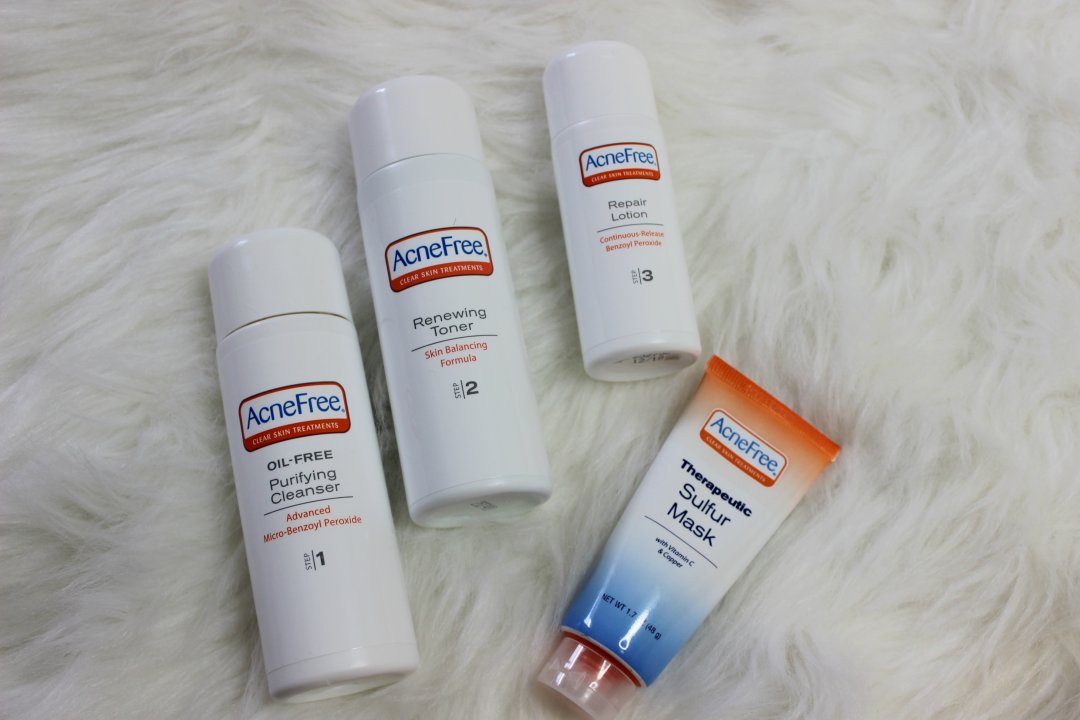 These products are a great way to care for acne-prone skin and I love how convenient they are if you are starting out with a skin care regimen. I know those three easy steps from the AcneFree 24 Hour Clearing System helped me a lot when I was in college because that way I only had to wear minimal makeup which means: concealer, eyebrows, and lipstick (which was my blush at the same time!). Believe it or not when I don't have time to get ready that's what I do!
Enter to Win! #AcneFreeLife Sweepstakes
Participate in the #AcneFreeLife Sweepstakes – See Visible Results in As Few As 3 Days!
AcneFree is launching a 4-week sweepstakes today, August 14th, 2017. 3 Grand Prize Winners will win $1,000 spending money and AcneFree Supplies for a year. Additionally, AcneFree will give away 10 AcneFree® 24 Hour Acne Clearing Systems every week for 4 weeks.
No Purchase Necessary. To enter, simply enter your name and email address here. Use the form to follow on Instagram and Facebook to earn extra entries.
For more information full rules, log on here.
Let me know if you have used AcneFree products, What's your favorite? If you haven't tried their products I recommend you try them! They are good quality, accessible and affordable.